Well, we just finished exhibiting our club layout, Allingham, at Exporail:
http://www.exporail.org/en/welcome-to-exporail/
A satisfying, if tiring, weekend of playing trains and entertaining the public.
For those forum members in the Montreal area, we are always looking for members, so if you have an interest in British trains, we welcome you. No experience is necessary; we have members at all levels of the spectrum and with a broad range of interest.
A few words about the layout:
We replaced our old layout "Rosedale" after it had done some 20 years of service and was really showing its age. This was an opportunity to stretch our legs so we chose an asymmetric design with a double track circuit and provision for a branchline. The large radius curve at the station meant that we had to make some points by hand, again pushing our skill level ever upward. Track is Peco code 100. Control had to be DCC and an NCE system was selected. Points on the circuit are actuated by SEEP motors and some are on stationary decoders.
Readers will recognise Metcalfe buildings and, again, pushing our skill level, Scalescenes buildings. The backscene is Townscenes with individual buildings mounted on foamboard and 3D elements added.
We also resolved to have working signals and these were developed by one of our members using a solenoid actuator system. The technology behind these is beyond me but they do work nicely.
Allingham is tentatively set in 1962 in the London Midland Region, in what used to be Cheshire Lines Committee country.
Now, for the branchline, we resolved that this would be finescale. Therefore the track is code 75 C&L with all points handbuilt on PCB. Point motors are Cobalt/Tortoise and all use stationary decoders.
Buildings are scratchbuilt in the main with a couple of kits, like the signalbox (Ratio) and station (kitbashed C&L).
The branch has two destinations: Stonefield Halt with a passing loop and Patchwick Station. This is set in the Western Region.
At the time we were naming the layout, the last three British WW1 vets (Henry Allingham, Harry Patch and Bill Stone) had passed away so we named our three stations after these men.
If you are interested in joining us please PM me and we can start the process.
I took some pictures at the exhibition:
Fowler 7F at the head of a mineral train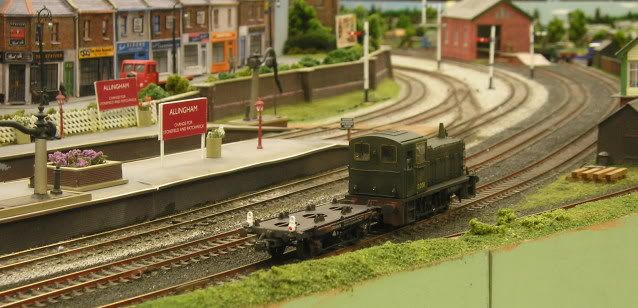 Station pilot Class 03 with it's runner
Black 5 with a parcels/mail train
Pickup goods pauses at the halt passing loop before proceeding down the branch
Class 108 DMU with passenger service to Patchwick
Pickup goods shunting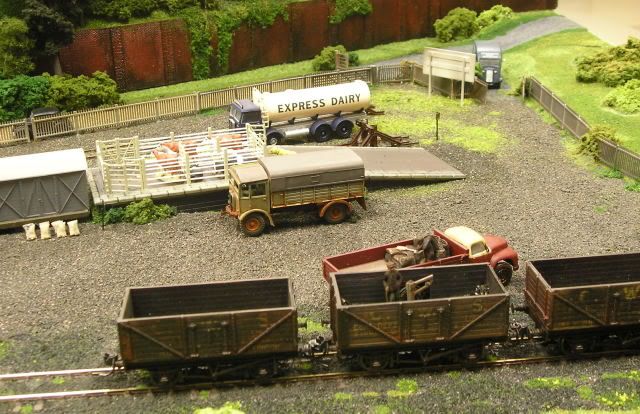 The small goods and coal depot at Patchwick.
I spent an enjoyable afternoon with the Jinty, making up trains at Allingham Goods and tootling down the branch to Patchwick. I was also delighted to let some children have a play. After a bit of instruction they actually operated the train quite well - I suppose its the video game training.
John Kendall